MODERN CUSTOM FARMHOUSE ENTERTAINMENT MEDIA CENTER $9,995
2 sold/1 unit still available. We're not sure if we will build these any more, been too busy building houses now that we started specializing in timberframe, even during the winter. Price is for pickup. We can deliver to radius within 2 hrs driving distance of our Cloquet MN location. TV not included.
Bigger than it looks in the pics. 12'7" wide x 7'10" tall x 18" deep. If you've seen Restoration Hardware's media center, this is bigger.
TV is hung on a bracket that extends out 14" and swivels and tilts. We will try and post a pic of that also.
ONE OF A KIND MODERN FARMHOUSE CUSTOM DESIGN

You'll never find an entertainment center/media center like this anywhere in the world. We know because we looked and searched all over the Internet and stores for the last few years. Do it yourself and you'll see what we're talking about.
We were looking for a large entertainment center that could hold a 65 or 75 inch TV at least. It had to be white and modern farmhouse style. We had to admit that 95% of what we say was "ugly" and didn't fit any of our criteria. We found one that was kind of close but for just under $20,000 but we still thought we could make a better one.
We didn't copy any entertainment center design. We've been a carpenter/furniture makers for over 25 years and we like making our own designs. We combine computer software designing with manual drafting once in a while. So you are guaranteed to get a one-of-a-kind piece that no one else has since it came straight from inside our head.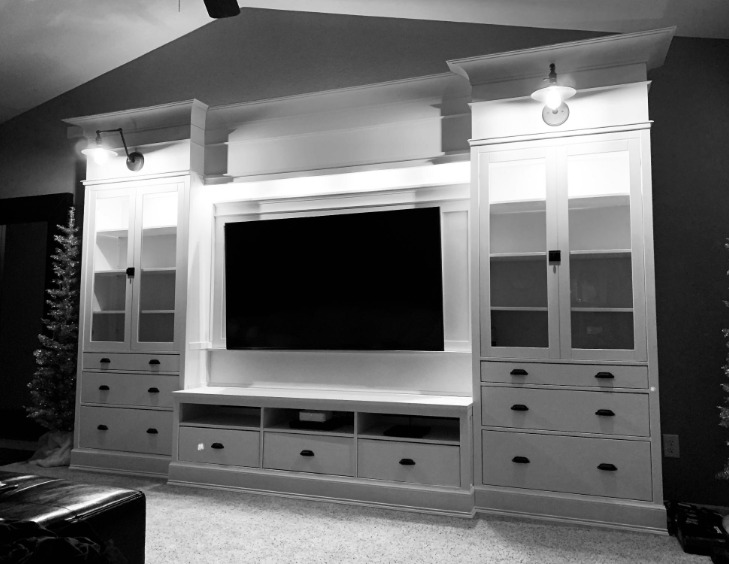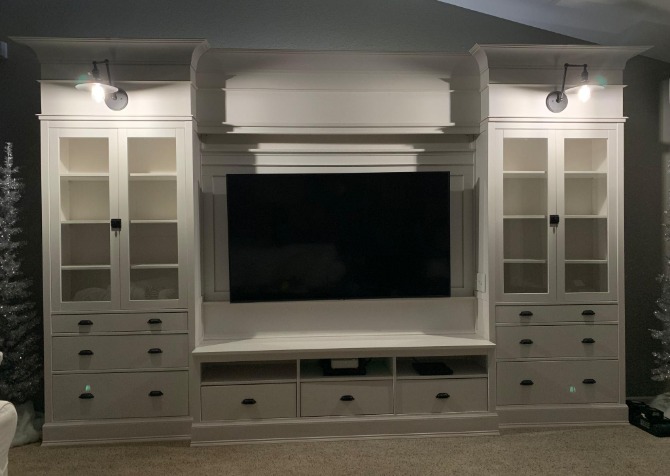 7 PIECE DESIGN FOR MOVING
This thing is much bigger than it seems from the pictures. That's what people have told us anyhow. It's 7'10" tall
by 12'7" long by 18" deep.
We purposely designed it to be removed in 7 pieces because it would be impossible to
move the entire thing in one piece.
Nevertheless, moving will be fairly difficult and take a few people and whoever buys it will need to make your own arrangements. (We can deliver if needed as long as it's within 2 hrs drive time from our Cloquet MN location).
You may need to get a UHaul. We can make a video of the splitting into seven parts that you could use to put it back together again in reverse.

FULL MOTION TV MOUNT HANGER
In the pictures you can see that We have a 65 inch TV that fits with room to spare. We hung the TV with a top of
the line Full Motion TV Wall Mount with Swivel Articulating Arms. You can pull the TV away from the wall, angle

it, swivel it, tilt it with full motion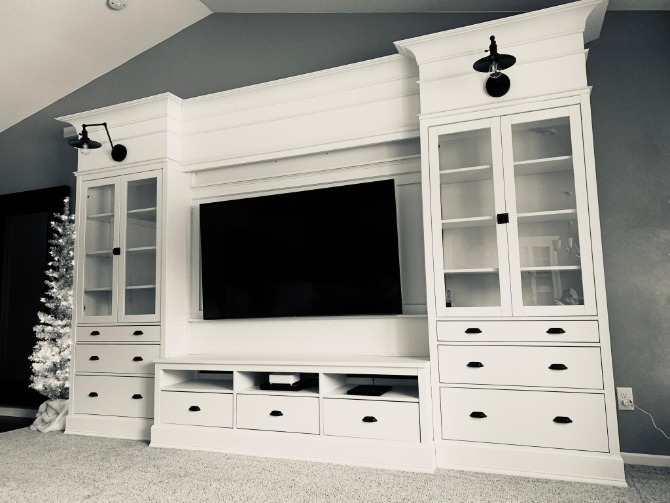 CONSTRUCTION DETAILS & HARDWARE
In keeping with the modern farmhouse style it is mostly constructed with pine solid wood and a little engineered
MDF in other spots like the cornices. We installed invisible Blum Undermount soft close drawer slides also. These
premium concealed slides are considered the best in the world, but We thought We would try another German brand
Hettic just to see for ourselves. Although they look similar We now see why Blum is the best and returned the
When you close the drawers the slides are dead silent and smooth, and do a soft close at the very end. And if you
ever have to remove the drawers it's extremely simple and quick to remove them and to install them back
For the cup/bin drawer pulls and cabinet door catches, we used matte black solid brass hardware that you can feel
the heaviness in your hand. The finish is a smooth dull matte black to go along with the modern farmhouse design.
We used satin brushed nickel screws for architectural contrast. Which are surprisingly hard to find.
We designed it so that you have plenty of access to reach any wiring or outlets on the wall behind. When you pull
out any of the drawers there is no back, so you can reach back and access any outlets easily
3 LIGHT SYSTEMS & DIMMER SWITCHES
There are 3 different lighting systems. Each with their own dimmer switch. There is rope lighting in the cornice
on the top which shines light upward toward the ceiling.
And then there are the black farmhouse library lights
over the glass cabinets. We had to customize those because when we bought them there were some parts We did not
like so we removed them and ordered and tried several parts until We got the look we wanted.
The final lighting
system is 6 puck lights. 4 lighting down over the TV, and 1 inside each of the glass cabinets. All of the lights
are LED with 6000K bright white light instead of yellow. We didn't want the lights yellowing the white finish

CONTACT TED NOW FOR DETAILS OR ANY QUESTIONS AT ALL. THXX